Record-Breaking Financials
The curtain has closed on FY2022, and what a remarkable year it's been for Draivi! Our revenue skyrocketed to a stunning 9.3 million euros, marking an astounding 190% growth year-on-year (YoY). The exceptional figures didn't stop there; our EBITDA reached 1.1 million euros, a tenfold increase compared to the previous fiscal year.

Strategic Growth and Expansion
Our strategy for the year revolved around the deployment and adaptation of our proprietary media buying technology. This led us to break new grounds in Germany and Spain while strengthening our foothold in the Nordics. Our steadfast focus on the fintech industry and commitment to performance marketing have enabled us to expand our reach and impact.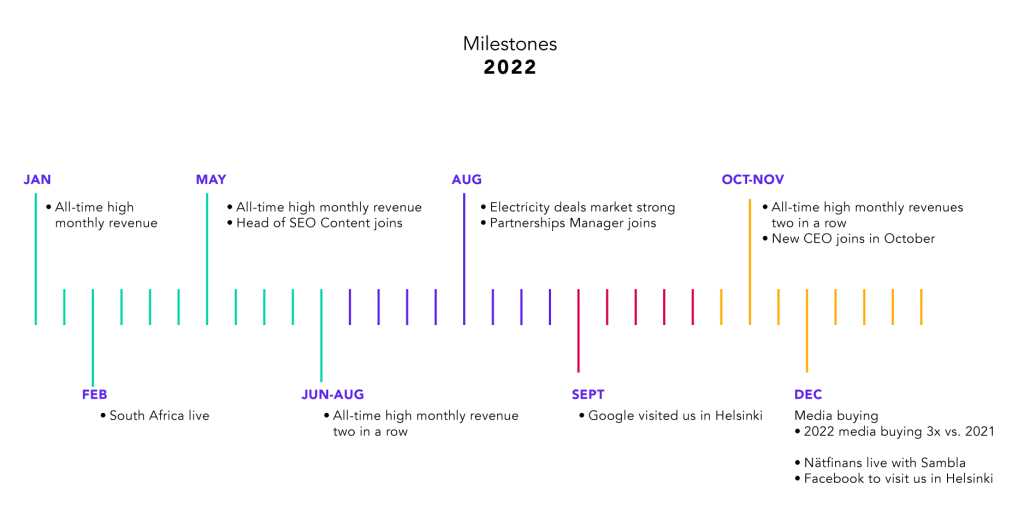 Facing Macroeconomic Challenges
We're aware of the potential macroeconomic challenges ahead, such as inflation. Yet, we're confident in our ability to sustain clear growth. Our agility, expertise, and innovative lead generation funnels position us well to navigate any uncertainty and continue our growth trajectory.
Ambitious Plans for FY2023
Our vision for FY2023 is clear and ambitious: to continue our 3-digit growth trajectory. With our commitment to 'business unusual with measurable results,' we're excited about the prospects of the coming year.
Acknowledging the Journey and the Team
As we march forward into FY2023, we want to express our gratitude to everyone who has been part of our journey – our dedicated team and our valued partners. Your trust and support have been instrumental in our record-breaking success.
Looking Ahead
Here's to another year of 'business unusual,' achieving measurable results, and making a significant impact in the fintech industry!